A taste of fall will be in the air this week, as the record-breaking summer of 2021 begins its reluctant exit.
The week will begin with a pair of rain-producing systems. A cold front advancing across the northern Tier and Upper Midwest will bring rain and even a dusting of snow to higher elevations. At the same time, unstable weather combined with Gulf moisture will bring rain to the South and Southeast.
Elsewhere, high pressure centers over the Northeast and West Coast will bring dry weather to much of the West and the Northeast.
The cold front will delineate the line between summer and fall, with temperatures 5 to 10 degrees above average ahead of the front. Behind the cold front, temperatures around 10 degrees below average will yield high temperatures in the 60s and 70s for much of the West, with California and the Desert Southwest seeing highs in the 80s and 90s.
The same cold front will continue pushing across the country, bringing showers and storms to the Great Lakes on Tuesday and Wednesday, into the Northeast on Thursday and Friday. The clouds and storms will bring cooler temperatures to the East in the latter half of the week, with widespread temperatures in the 60s and 70s being found east of the Mississippi, about 10 degrees below average.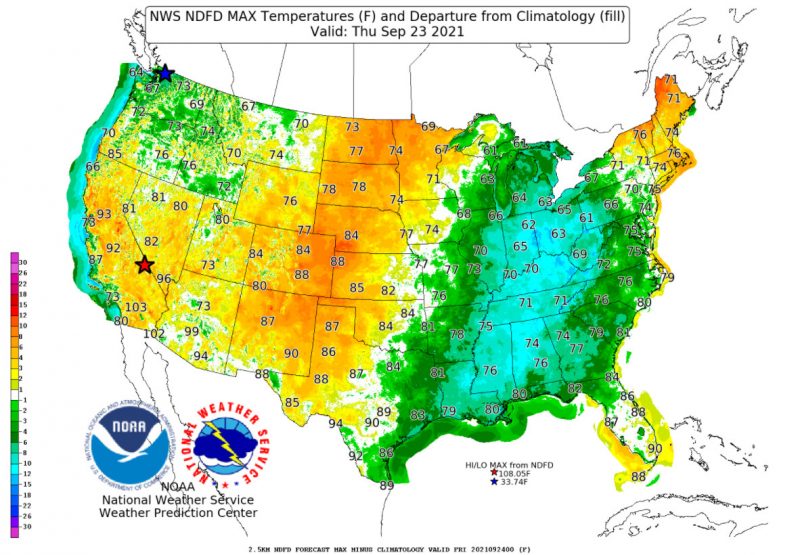 As temperatures fall in the East, the reverse happens in the West. Highs in the 70s and 80s will be found across the West towards the end of the week, rising into the 90s and 100s in California and the Desert Southwest.
Except for frequent showers in Florida, most of the country will see dry weather heading into next weekend, with high pressure systems set to dominate the skies after a wet week.
featured image via pixabay.com