Today: 
The summer-like warmth is going to continue into today with temps getting into the mid 80s during the afternoon, although humidity should remain low, so it won't be that sticky, muggy warmth. Along with partly cloudy skies, it'll be quite breezy with southwest winds at 10-12 mph and gusts up to 20 mph. There is a very slight chance of a pop-up shower or thunderstorm in the late afternoon, but that remains unlikely. Overall, with the wind and low humidity, the day should actually feel fairly pleasant despite the heat. The high will be 88.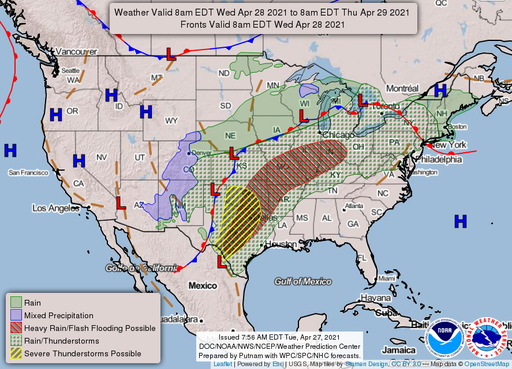 Tonight: 
Cloud cover should begin to increase as we head into the evening. There is a slight chance of rain overnight, especially early on, as scattered showers make their way into the region. Temperatures should remain fairly stable and mild throughout the night, sitting in the low 70s. Starting the day, mild winds will come from the southwest but will decrease to 6-8 mph. The low will be 69 degrees. 
Tomorrow (Thursday):
The trend of summertime temps continues into today, though it looks to be cloudier than yesterday.  Scattered light showers and thunderstorms are possible throughout the day in association with an approaching storm system. These storms will be hit or miss, though you should remain prepared nonetheless. Like yesterday, the breezy conditions continue with southwest winds at 10-12 mph and gusts up to 20 mph.  The high will be 84 degrees. 
Tomorrow Night: 
The chance of scattered light showers continues into the night as a cold front approaches and makes its way through by Friday morning. However, temperatures overnight tonight once again stay fairly stable as mostly cloudy skies remain. Winds stay out of the southwest at 8-10 mph early on, but shift to the west-northwest in the early morning hours as the front passes. The low will be 67 degrees. 
A Look Ahead: 
The cold front passing through on Friday morning will knock down the high temperatures for Friday and Saturday, along with bringing breezy but clear conditions. Overall, the weekend looks to be very pleasant with highs in the 70s. Though, this break from the heat doesn't seem to last very long as summertime temps return early next week. 
Featured image via Pixabay.com