Today:
Maryland spring really is something else… I've lived in this state my whole life and I'm still not used to it. Just a few days ago, my roommates and I had to turn the heat on because it was too cold. And now, the high today will be a whole 83 degrees F, with bright, sunny skies. It's still April, right? I didn't sleep through the end of the semester all the way into summer? At least it won't be too humid.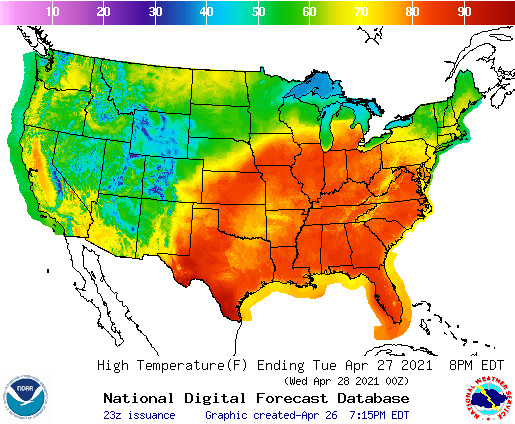 Tonight:
Enjoy this reprieve from the heat while it lasts. The low tonight will be 61 degrees, with partly cloudy skies and a light wind from the southwest. Now, brace yourself for tomorrow's weather.
Tomorrow (Wednesday):
I double checked, and yes, it will in fact still be April. It's the middle of spring. And yet, the high tomorrow is 87 degrees. This shouldn't be allowed. At least it'll be a little windy — the wind will be coming from the west at 6 to 11 mph, gusting up to 21 mph. If you like the heat, then have fun… but if you're like me and absolutely can't stand the heat, I'm so sorry.
Tomorrow Night:
Tomorrow night will reach a nice, balmy low of 67 degrees. Expect it to be mostly cloudy with only a light wind; all around, a very pleasant sounding night!
A Look Ahead:
There is currently a large storm system passing over the country, but it should mostly die down by the time it reaches our area. Expect a chance of showers on Thursday and Friday, but nothing like the severe thunderstorms the Midwest is seeing right now. The rain will bring temperatures down a bit towards the weekend, but it looks like we're starting to reach the part of the year where we consistently get close to 80 degrees. Goodbye, low temperatures… you will be missed!
Featured image via Pixabay.com