Today:
Expect a mostly cloudy day in College Park, with highs around 50 degrees F and lows in the upper 30s.
Tonight:
There's a slight chance of precipitation later tonight; around 0.26 inches is expected. This rain will continue overnight into Saturday morning.
Tomorrow (Saturday): 
Another cloudy day tomorrow, this one starting off wet from tonight's rain. Temperatures will be warmer than today, with highs around 60 degrees F and lows in the mid 40s. There is a chance for intermittent showers throughout the day, so be on the lookout.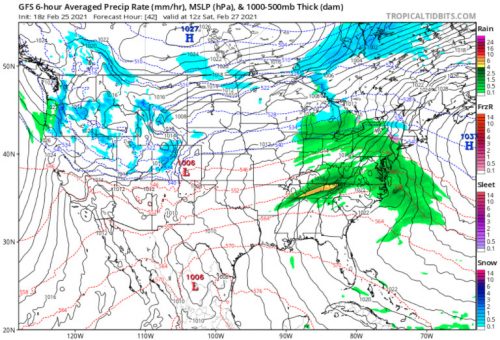 GFS output valid at 7am EST this Saturday. As seen, a system in the Mid-Atlantic holds some precipitation for us on Saturday.
A Look Ahead: 
This warm(ish) rain seems to be the vibe for the next week or so, with precipitation expected on Saturday, Sunday, Monday, Wednesday and Thursday. Keep that raincoat handy.
featured image via pixabay.com