Today:
This morning, we will start off with mostly sunny skies and temperatures around 40 F by 9 a.m. with a cold front passing over the area, though no chance of precipitation. It is going to be windy today with speeds averaging 10 mph and gusts of around 25 mph. Pushing into the afternoon, temperatures will reach a high of 50 F around 4 p.m.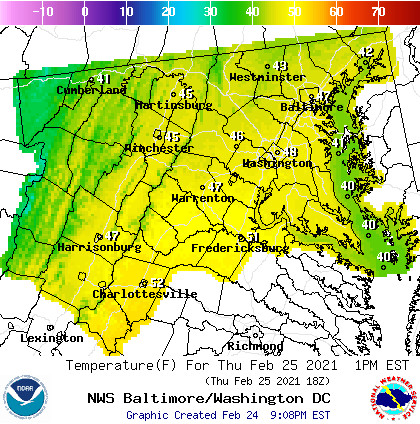 Tonight:
If we could only have as warm weather as last night it would be great, but cool temperatures will be brought on over from the cold front passing through earlier in the day, dropping it into the mid 30s. We will experience a slight increase in cloud cover with a gentle breeze of 3 mph blowing south-east before the start of a new day.
Tomorrow (Friday):
Temperatures will be in the mid to high 30s in the morning before reaching a high of 48 F in the afternoon. Mostly sunny skies will be over College Park with winds around 5 to 7 mph. Chances of precipitation increase after 6 pm to 60% and will last until tomorrow.
A Look Ahead:
On Saturday, rain will is likely to occur with chances increasing in the evening. Temperatures are expected to reach a high of around 53 F with the height of wind speeds reaching about 7 mph by the afternoon and a low of 45 F in the evening. Going into Sunday, showers throughout the day are likely. Temperatures are expected to reach a high of 56 F and a low of 46 F
Featured image via Pixabay.com