Today: A slight chance of light rain and even flurries will be present in the region during the early afternoon, though no significant impacts are expected. Otherwise, it'll be cool and cloudy throughout the day with skies beginning to clear up by evening. Winds will be out of the southwest at 5-7 mph. The high will be 43.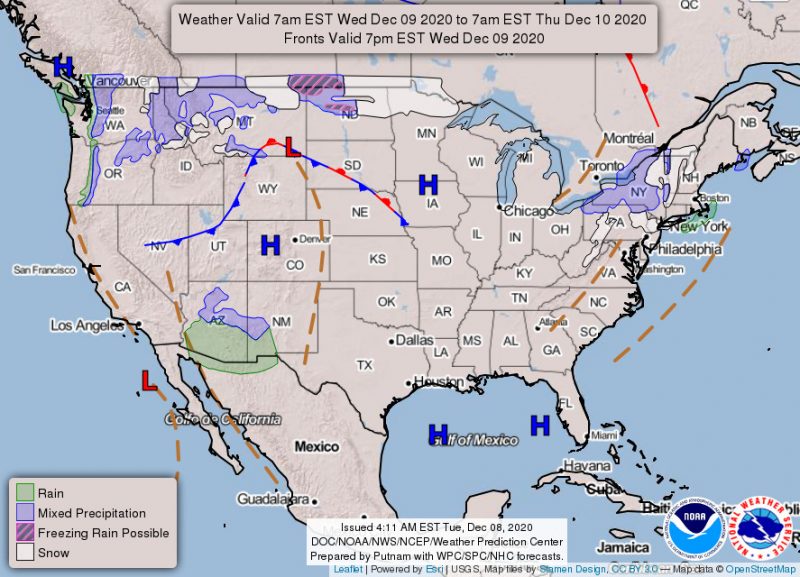 Tonight: Partly cloudy and dry conditions are expected through the night as a ridge of high pressure begins to move into the region. Winds will shift the northwest at 6-8 mph. The low will be 32. 
Thursday: With high pressure firmly built into the region at this point, you can expect a bright sunny day with minimal cloud cover. In addition, winds will be decreasing as the day goes on. Expect a high of 50. 
Thursday Night: Not much change in the skies from the previous 24 hours as clear and dry conditions are still expected overnight. Winds will shift to the south while remaining light. 
A Look Ahead: Friday and Saturday look to be more of the same with sunny skies and milder temps as highs creep into the mid to upper 50s. The next storm system doesn't appear to threaten the region until Saturday night into Sunday where rain and unseasonably mild temps are likely. 
Featured Image via Pixabay.com