Today:
A high pressure system over the mid-Atlantic today will keep skies mostly clear and temperatures cool as we head into Thanksgiving break. The high temperature today will be 51 degrees F, with wind around 6 mph coming from the north and calming in the afternoon.
Tonight:
Clouds will start forming as the high pressure system moves away to the east, which will keep the temperature from getting below freezing as the clouds trap some of the heat. The low temperature tonight will be 37 degrees F.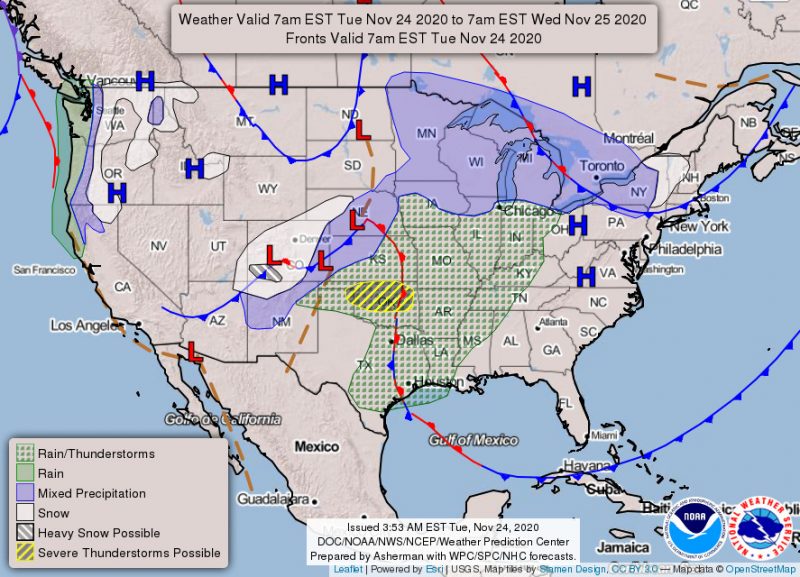 Tomorrow (Wednesday):
Temperatures will start warming a bit as we get closer to Thanksgiving, with a high of 57 degrees F on Wednesday. Clouds will keep forming as the rain over the center of the country starts moving towards us, and wind speed will increase slightly to 5 to 10 mph in the morning.
Tomorrow Night:
Expect up to half an inch of rain overnight as the rain over the center of the country hits us in full force. The low temperature will be a bit warmer than tonight's as the cloudy skies trap heat at the surface, with a low around 49 degrees F.
A Look Ahead:
If you're staying in College Park this Thanksgiving, it'll be a rainy Turkey Day this year — all the more reason to stay inside and social distance! A warm front will pass over the region as the rain moves over us, with temperatures in the upper 60s on Thursday, before dropping back down to the 50s by the weekend.
Featured image via Pixabay.com