Today:
Thanksgiving week will kick off to a dreary start on Sunday morning. The cloud cover that has persisted for the last few days is expected to remain constant until Sunday night, giving another day of gloom. A small chance of light showers persists throughout the day, but rainfall estimates are very low. There will be a light wind, but not enough to provide a significant amount of wind chill to the afternoon temperatures in the mid-50s.
Tonight: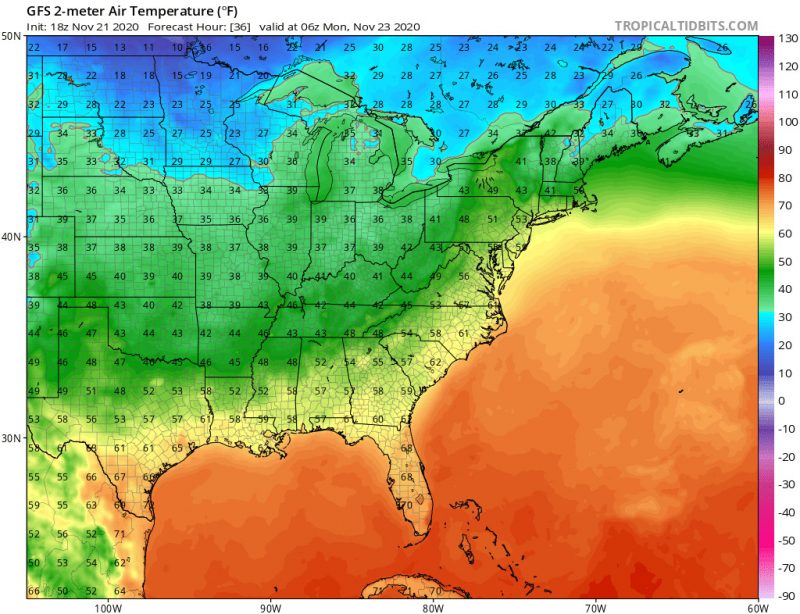 Temperatures will remain in the low 50s throughout the night as the cloud cover insulates the ground. While there is an 80% chance of rain after midnight, the relatively high nightly temperatures means you won't have to worry about ice on your Monday morning commute.
Tomorrow (Monday):
While Monday morning will dawn cloudy, the clouds will break up as the day goes on. However, there is still a 60% chance for morning showers. Winds will be stronger at 10-15 mph with occasional gusts over 20 mph. Temperatures will stay in the low to mid 50s throughout the day, but the clear night sky means the temperature will drop into the low 30s overnight.
A Look Ahead:
Tuesday will be sunny and dry, with temperatures ranging from the low 50s to the mid-30s overnight. Wednesday and Thursday will be slightly warmer with temperatures in the low 50s and lower 60s, but they will also bring clouds and a chance of rain. High temperatures will remain in the low 60s through Friday before dropping next weekend.
Featured image courtesy of the author.