Today:
To start off the morning, temperatures are going to be in the lows 30s just after dawn and will continue to increase to 49 F by noon. Wind gusts as high as 20 mph will be in the area. Mostly sunny skies will persist over the area, allowing for a high of 52 F by the afternoon. Expect wind from the southwest to blow with speeds ranging from 5 to 12 mph. Following the trend of no rain this week, there will be no chance of precipitation today.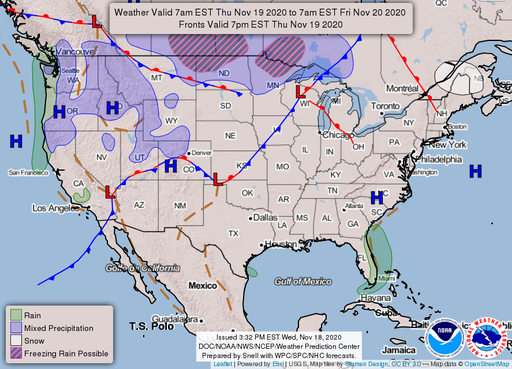 Tonight:
Going into the evening, temperatures will drop into the high 40s by dusk though wind speed will remain about the same. Clear skies overhead will allow you to stargaze if you fancy doing so well into the night
Tomorrow (Friday):
Tomorrow will be like much of yesterday in terms of sunny skies over the College Park area and wind coming from the southwest with speeds of about 7 mph. In the morning, temperatures will be in the high 30s, reaching a high of 63 F by 3 p.m with clear, sunny skies. Hopefully, exams will be over for the week, allowing you to get some rays of sunshine to boost your spirits.
A Look Ahead:
Going into the weekend, temperatures will reach a high of 64 F in the afternoon. Cloud cover will increase from what we've been experiencing earlier in the week, though still no chance of precipitation for College Park. A calm breeze will persist throughout the day with temperatures falling into the high 40s by night time. On Sunday, cloud cover will increase to mostly cloudy skies and yet still no chance of rain. Wind speeds are expected to be about 7 mph throughout the day.
Featured image by Hans Braxmeier from Pixabay