Today:
The morning started off chilly with temperatures in the upper 30s to around 40 degrees, which is typical for mid-November. Temperatures this afternoon will be a touch below average with highs in the mid 50s. However, plentiful sunshine and a light northwest wind at 5 to 10 mph will have it feeling mild outside.
Tonight: 
Tonight will pretty much be a repeat of last night, with temperatures dropping into the upper 30s. Skies will be partly cloudy and a light southeast wind around 5 mph will develop late.
Tomorrow (Sunday): 
The clouds and rain showers return tomorrow as a potent cold front pushes toward the area. During the morning, just a few showers will be around before a steadier rain develops for the afternoon. Up to a quarter inch of rain can be expected. High temperatures will peak in the mid 60s with a breeze out of the southeast at 10 to 20 mph.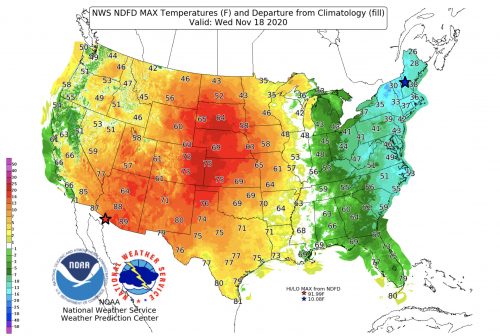 High temperatures Wednesday will be 10 to 15 degrees below average (image via digital.weather.gov).
A Look Ahead:
Temperatures return closer to average Monday before the coldest air of the season arrives by midweek, with temperatures 5 to 15 degrees below average. Both Tuesday and Wednesday nights look to be below freezing. The good news is that with the cold air will come sunshine and dry weather, so the weather will be tolerable. 
Featured Image via pixabay.com