Today:
It's going to feel like a typical rainy spring day today. The high pressure system that was over our area yesterday is moving to the southeast, and we expect the lower pressure that is taking its place to bring some rain later in the morning. The high today is a comfortable 69 F, and we can expect it to remain cloudy for most of the day. It may get a little windy in the afternoon; winds will be 10 to 15 mph from the southwest, with gusts as high as 30 mph.
Tonight:
Look out for a possible thunderstorm tonight before 8 p.m.! The chance of rain is smaller than it was earlier today, and winds will calm down slightly to around 10 mph. Showers may linger for a few hours after 8 p.m. A cold front will pass through late in the evening and bring us a low around 43 F. But don't worry, the cold won't stay for long.
Tomorrow (Wednesday):
The cold front that blows through will bring with it a mostly sunny Wednesday for us… no rain! The high will be lower than it was today, around 60, but still quite comfortable considering the time of year. Wednesday night will be quite uneventful and the low will once again likely be in the mid 40s. There is a small chance of showers very late in the evening into early Thursday morning, but nothing to worry about for any of us who have an 8 a.m. the next day.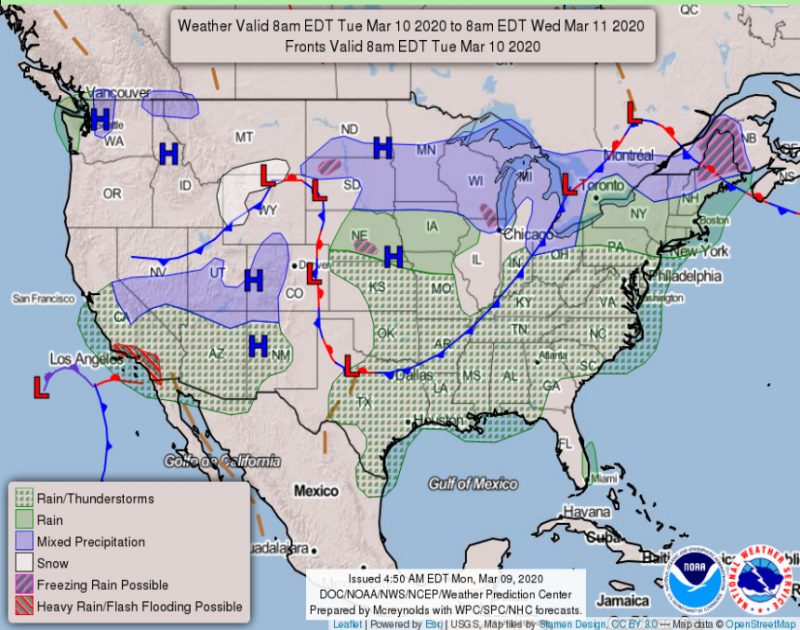 A Look Ahead:
Temperatures will continue to rise after Wednesday until Friday where they will reach a high around 70. Thursday will be a perfect, mostly sunny day to get some last minute homework or studying done outside before spring break starts! The rain may make a return Friday, but the weekend will bring a cool and sunny start to everyone's spring break.
Featured Image via pixabay.com