Today:
Today will be on the warmer side with an overcast of clouds throughout the day. Temperatures this morning are in the high 40's with little to no winds. We can also expect drizzle in the morning. Later in the afternoon, we can expect the temperature to reach a high of about 56 F. Although it will be warm, the probability of precipitation increases, with a chance of showers.
Tonight:
On the commute home, expect precipitation to pick up and continue into the night. Scattered thunderstorms will occur throughout the area around 8 p.m. with winds of about 8 mph. Be sure to bring rainwear for the commute home or any evening moves!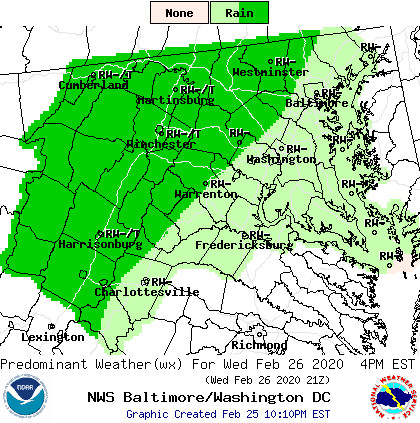 Tomorrow (Thursday):
During the early hours of Thursday morning, precipitation will continue to occur, but die down before the morning commute to class. Temperatures will be as low as 37 F in the morning with scattered clouds. Later in the afternoon, temperatures will be as high as 47 F with wind gusts as high as 20 m.p.h.
A Look Ahead:
After Thursday, temperatures in the afternoon will reach highs in the low 40's with clouds ranging from scattered to none at all. There will be no precipitation before the start of the new week on Monday so be sure to enjoy the weather while it lasts.