Today:
A blank map. That's what we have for you today. As far as DC is concerned, it's just another clear, cold day, with temperatures peaking at 38 degrees around 3 p.m. And as far as the rest of the country is concerned, it's also a clear, cold(ish) day, depending on exactly where you are. But in terms of rain, storms, or anything of significance, there's just nothing going on. Why? High pressure systems dominate the country tomorrow, and a high pressure system is an indicator of clear weather. Just take a look at the map below.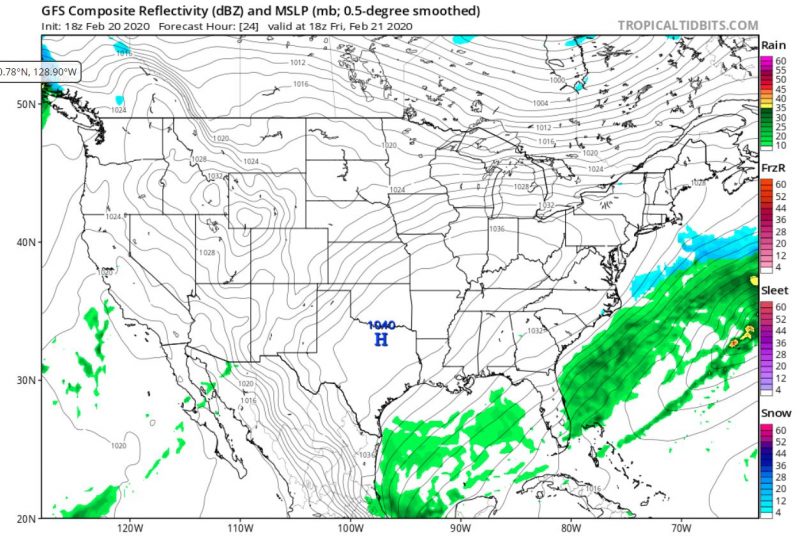 Although there isn't an official record of how often this happen, the Weather Channel estimates that this only happens a couple times each year, so if you're reading this article you can tell people that even though the weather seems boring, it's actually a very rare weather "event"!
Tonight:
Same thing as during the day, but colder. The low drops down to about 22 degrees overnight.
Tomorrow (Saturday):
Tomorrow will also be a clear, quiet day, but significantly warmer, with highs in the low 50s. Overnight, temperatures drop to about 26 degrees.
A Look Ahead:
Next week, expect rain to kick off the week, with precipitation expected on Monday, Tuesday, and Wednesday, a sharp contrast to the clear weather expected over the weekend.
featured image via pixabay.com