Today will be feeling pretty mild for February with a high temperature of 49-degrees, so a light jacket is all you need if you're planning to go see the women's basketball team take on Rutgers. You can also expect sunny skies with a few clouds, so no raincoat will be needed. While this weekend has been a relief from last week's rain, you'll want to bring the umbrella with you to class tomorrow. Unfortunately for the snow lovers, the first half of this week will be just rain as it will still be too warm for snow.
Tonight:
If you're going to be out past sunset, a warmer jacket and even a hat will be necessary because temperatures will fall into the upper-30s. Expect clouds to move in overnight and with showers eventually creeping into the area early tomorrow morning.
Tomorrow (Monday):
Get the rain boots and umbrella out tomorrow, because we have another chance of showers moving our way. The high temperature is expected to be a mild 53-degrees, but 12 mph winds and damp conditions will make it feel a bit colder. Tomorrow will be the day to bring your workout indoors or even chill and catch up on your favorite TV show.
Tomorrow Night:
On the positive side, the low temperature will only fall into the low-40s. However, the rain will continue through the night, so don't put the umbrella away quite yet. If you're planning to go somewhere, I recommend taking a bus instead of walking.
A Look Ahead:
The beginning of this week is looking a bit rainy, but we should get some relief by the end of the week. Overall, high temperatures will fluctuate between the 40s and 50s, which will make walking to class a little more bearable. It's looking like this week will be a continuation of the mild winter we have seen so far, will we see snow at all this winter?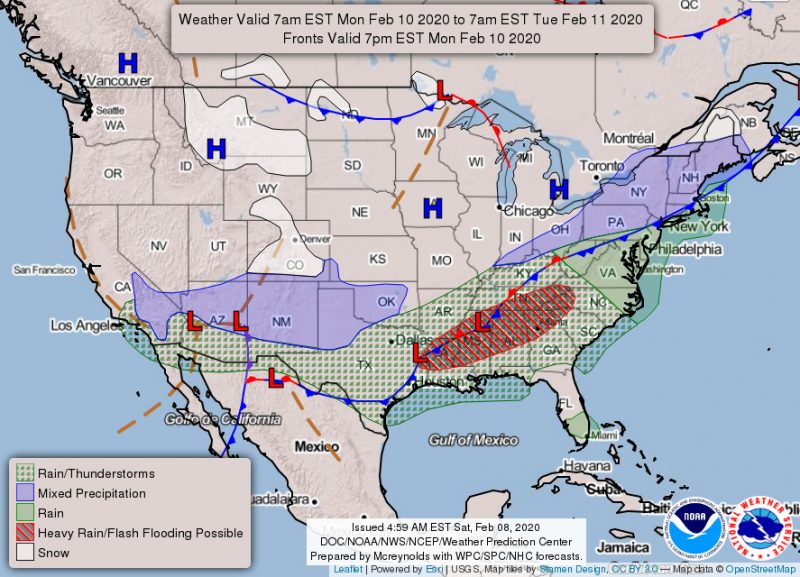 Featured image via Pixabay.com