Today:
On Sunday, the sun will rise over a damp, cloudy campus. Showers from Saturday night will stay in the region until early Sunday morning. There is a 20% chance that this system will cause precipitation before noon on Sunday. Once the showers leave the area, there will be a possibility of wind gusts out of the west at 30 to 40 mph. In the afternoon, temperatures are expected to be in the high 40s to low 50s.
Tonight:
As we move into the evening, high pressure will begin building over the region. As a result, the skies will begin clearing which results in a nightly low temperature of 33 degrees F. Winds will continue to come out of the west throughout the night, but the intensity and frequency of gusts are expected to decrease. While the region is expected to remain dry, there is a 10% chance of precipitation overnight.
Tomorrow (Monday):
Monday's weather will be very similar to Sunday afternoon but with calmer winds. The high pressure system will persist throughout the day keeping the skies clear and dry. The wind will shift to the south and will drop to about 5 mph. There is a marginal chance of rain. Afternoon temperatures are expected to be in the mid 50s while the low temperature is expected to be in the low 30s.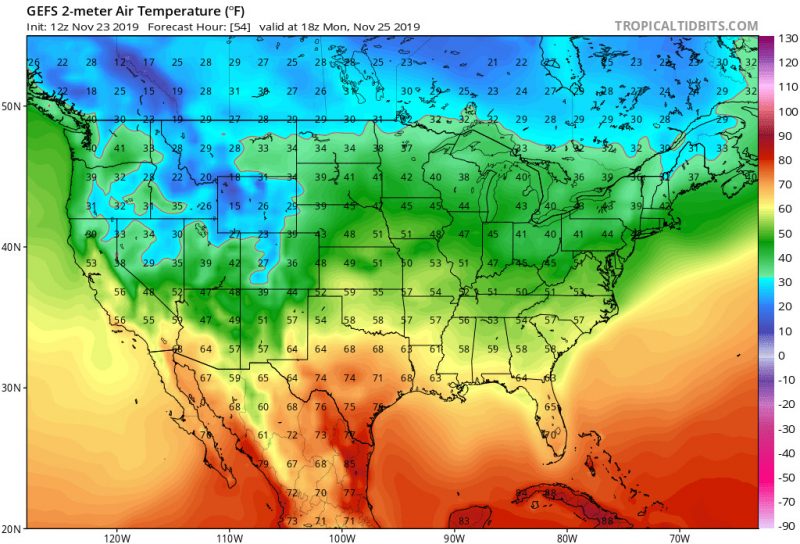 A Look Ahead:
Clouds will begin building on Tuesday as students go through their last day of classes before break. A cold front will pass through on Wednesday, bringing a chance of showers with it. Additionally, there is a chance of wind gusts of 40 mph out of the south. After the cold front passes, a high pressure system will settle in the region. This will create cool and dry conditions until the weekend.
Featured image via the author.