We're just 10 days away from Thanksgiving Break and the weather is definitely feeling like it. This morning's low temperature of 30-degrees will be chilly for those early risers. If you're heading out for an early trip to Washington, D.C. or working out early at the gym you'll want to grab a jacket and a hat before leaving your room. During the day, you can expect it to be mostly cloudy with some sunshine. Temperatures will reach the mid-40s and the breeze will make it feel a bit colder. It won't be the kind of day to hang out outside, I recommend staying inside and watching your favorite Disney show on Disney+ or catching up on homework.
Tonight:
Temperatures won't be as cold as Sunday morning; the low temperature is expected to be 37-degrees. The winds will persist, so it will feel a bit chillier than the thermometer says. The clouds will stick around, and there will be a chance of rain after midnight. If you leave your room to get that late-night dinner at the dining hall, don't forget the jacket and sweatpants because it will be chilly!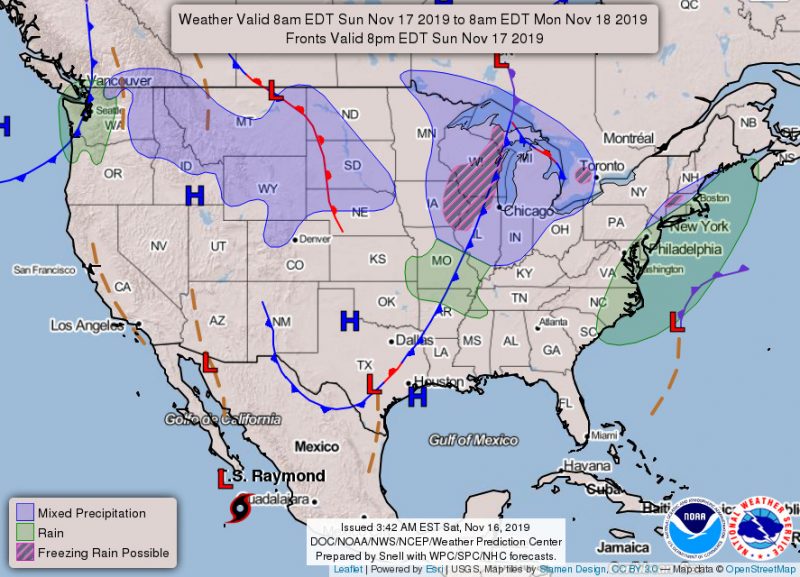 Tomorrow (Monday):
The high temperature on Monday will be 47-degrees and the winds will be calm, so you won't need your heavy coat. You'll want to bring your umbrella with you to class, though, because there is a chance of precipitation in the afternoon.
A Look Ahead:
The rest of this week is looking nice for the middle of November. The high temperatures will be in the mid-50s and low-temperatures will be in the upper-30s. There are no chances of precipitation until Friday.
Featured Image via Pixabay.com