Today:
Sunday's weather will be mostly uneventful due to the presence of a high pressure region over the area. The subsidence caused by the high pressure will keep the skies clear and dry throughout the day. In the afternoon, the high temperature will reach 56 degrees F and the southerly winds will be calm resulting in a negligible wind chill. The clear skies and moderate temperatures will make Sunday afternoon a great time to celebrate International Tongue Twister Day!
Tonight:
The clear, dry skies will continue into Sunday evening and Sunday night. As the day's heat radiates away into the atmosphere, temperatures will begin to drop to the low of 41 degrees F. Calm winds will continue out of the South and Southwest through much of the night. Late in the night, the pressure will begin to fall as the high pressure system moves off the coast.
Tomorrow (Monday):
While the high pressure system will no longer be directly over the region, its effects will still be felt on Veteran's Day. The sky will continue to remain clear and dry as the temperature reaches an afternoon high in the mid 60s. However, these conditions won't continue into Monday night when there will be a 60% chance of rain. Northwesterly winds will pick up as a cold front begins to move through the region.
A Look Ahead:
The cold front will continue to move through the region on Tuesday. There will be a high chance of rain throughout the day. With expected temperatures in the 30s to low 40s, there is a possibility for a wintry mix of rain and light snow. After Tuesday, the week is expected to be mostly cool and dry. The high temperatures will be near 50 degrees while the lows remain in the 20s.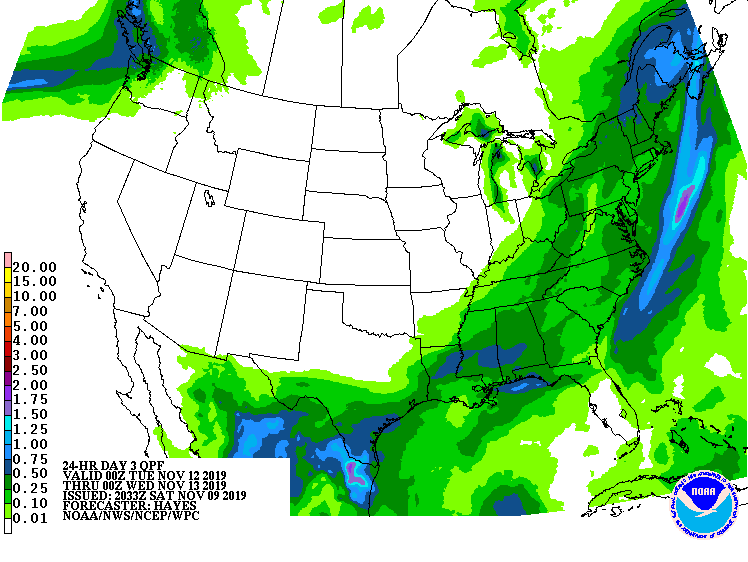 Featured image via the author