Today:
Sunday morning will dawn cool and partially cloudy. The cloud cover will persist throughout the day, capping the afternoon's high temperature at a seasonal 66 degrees F.  In the morning and early afternoon, expect calm winds out of the southeast. There is a small chance of rain that peaks in the late afternoon.
Tonight:
This chance of rain continues into the early evening. Precipitation is expected in southern Maryland, but College Park is expected to remain dry. Nevertheless, it would be a good idea to take an umbrella or rain jacket with you if you go out. Throughout the evening, the wind will remain calm and southerly. The nightly low temperature will be near 50 degrees. If you can find a break in the clouds, Sunday night will be an excellent chance to observe the full moon.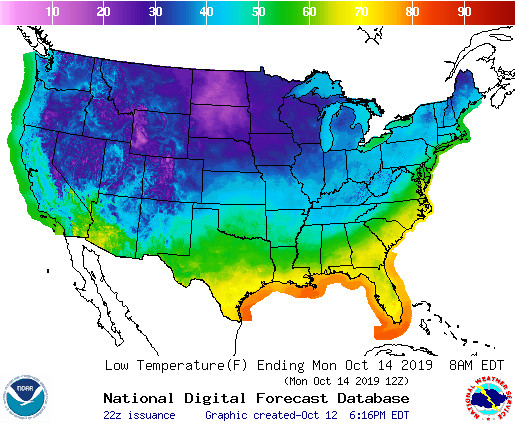 Tomorrow (Monday):
The cloud cover will begin breaking up on Monday morning as a high pressure system moves into the region. This system will bring warmer temperatures with it, resulting in a high temperature in the mid-70s.  The afternoon is expected to be dry with winds from the northwest at 5 mph.
A Look Ahead:
Following the high pressure system, a cold front will roll through the region later in the week. Temperatures will begin dropping on Tuesday and will remain in the mid to low 60s for the remainder of the week. The chance of rain peaks on Wednesday, so be sure to prepare appropriately for a cold, rainy midpoint of the week.
Featured image via the author.