Today's weather is shaping up to be a nice fall day, with a low around 60 degrees F expected this morning before things warm up to 80 degrees F. Thanks to the passage of a cold front yesterday, conditions are expected to remain rain free for today as the cooler drier air settles in over the region. Winds can also be expected to remain light through the day peaking between 5 and 7 miles an hour, while the skies should be mostly sunny with a few clouds here and there.
This Evening (Friday Night) :
Expect conditions to remain just as dry as during the day, although it is likely that more clouds will being to develop into the evening. Temperatures will likely dip down to the mid 60's by the end of the night and the rain will continue to elude us.
Tomorrow (Saturday) :
Tomorrow is looking be a repeat of today although temperatures are expected to increase as warmer and moister air creeps in from the Atlantic. Expect a low in the mid 50's with a high in the mid 80's. Thanks to the increased water vapor we'll see more cloudiness in the region with the possibility of some isolated showers.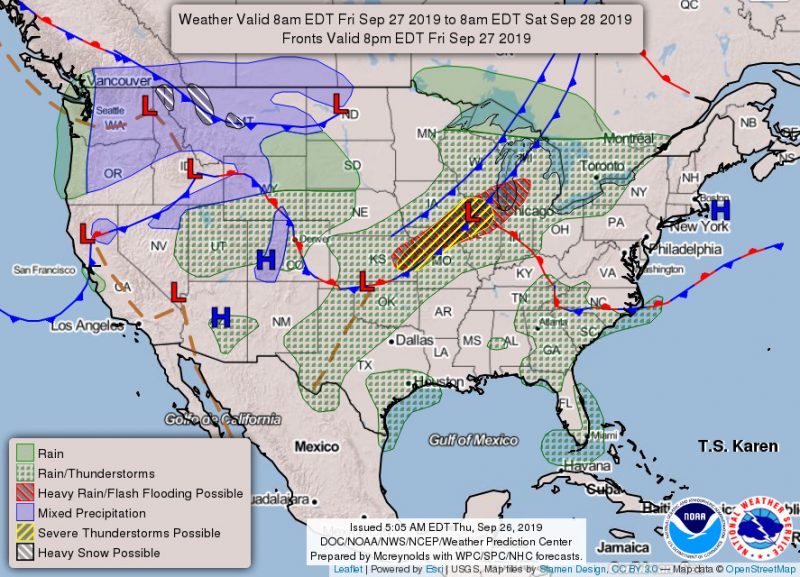 Thanks to the lack of any fronts in addition to the development of high pressure in the region, this weekend should remain mostly sunny and rain free. Image courtesy of the Weather Prediction Center

Featured Image courtesy Stephen Ellis on Unsplash