The summer heat just doesn't want to go away as temperatures make their way into the low to mid 90s. Make sure you hit the pool because this may be the last time the temperature will be above 90. Besides the high temperatures, the sun will be blaring on a cloudless day.
Tonight (Wednesday):
Once the sun sets we'll gain a little relief from the heat, and a clear night will allow the temperatures to dip even more. Expect temperatures to dip to the mid 70s around midnight. Additionally, the wind will be relatively negligible overnight.
Tomorrow (Thursday):
A drastic change from Wednesday's bright sun and blaring heat are expected for Thursday. Tomorrow the clouds will roll in and the temperatures will rapidly decline into more seasonal temperatures – our friendly mid 70s.
A Look Ahead:
Friday should be a nice break from the dry weak with some morning showers. On the flip side, the weekend will be dry and beautiful so make sure to get what you can out of the sun before exams heat.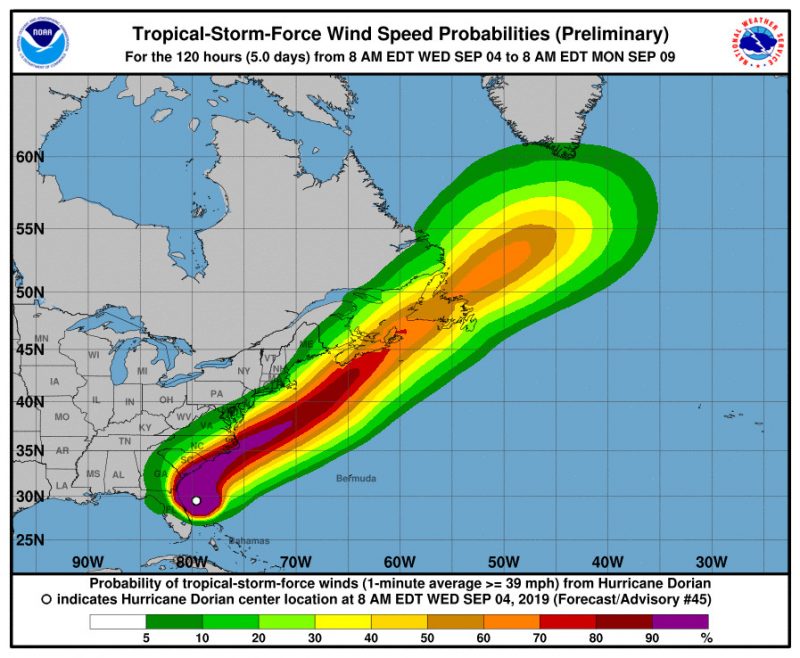 Hurricane Dorain:
After battling Bermuda, Dorain is finally making its way over to the United States. Right now the storm is kissing Eastern Florida, but the current models project the storm to have a major impact on South Carolina before moving just off the coast of the Eastern U.S. Don't expect more than a little wind and some rain from the outer bands for College Park.