After a gloomy and chilly day in College Park yesterday, the frequently changing Maryland weather is back at it again with sunny skies and a high temperature of 86-degrees. This warm-up is credited to a warm front moving north through our region today. Today will feel a lot like summer, so don't hesitate to head to the pool or study for those last midterms outside – but the UV index today is very high so don't forget your sunscreen! Unfortunately, another trait of summer weather is the risk of thunderstorms in the late afternoon. The high temperatures and humidity will provide necessary conditions for some thunderstorm activity later today. NOAA's Storm Prediction Center has the DC area under a marginal risk for severe weather with strong winds and hail being the largest threats.
Tonight:
The chance of showers and thunderstorms will linger into the night, so it probably isn't the best evening to venture out anywhere. Temperatures will remain mild, only falling to the low-60s. If you do decide to brave the weather and go out, a jacket won't be necessary, but you may want to bring an umbrella just in case!
Tomorrow (Friday):
You can expect Friday to be similar to the weather today with a high temperature in the mid-80s. Clouds will build up throughout the day ahead of a cold front that will deliver yet another chance of thunderstorms. Currently, NOAA's Storm Prediction Center has us under a marginal risk for severe weather for Friday. Would it even be Friday if there wasn't a chance for storms? Overall, tomorrow will be a shorts and t-shirt kind of day and don't forget to bring that umbrella with you!
Tomorrow Night:
The chance for showers and thunderstorms will persist, yet it will lessen. Expect cloudy skies and another round of low temperatures in the low-60s. It will be another night of not needing a jacket, but bringing an umbrella is advised.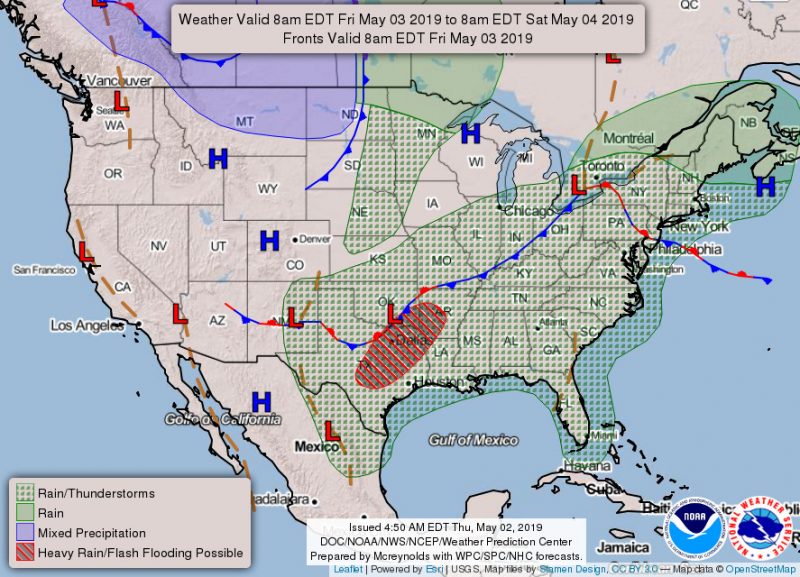 Featured image via Pixabay.com