Today was cloudy and some showers fell, but the day was noticeably warmer. This pattern looks to continue, with rain in the forecast all this weekend. There should be times to enjoy the warmer weather, but just bring a rain jacket or umbrella in case of showers or thunderstorms.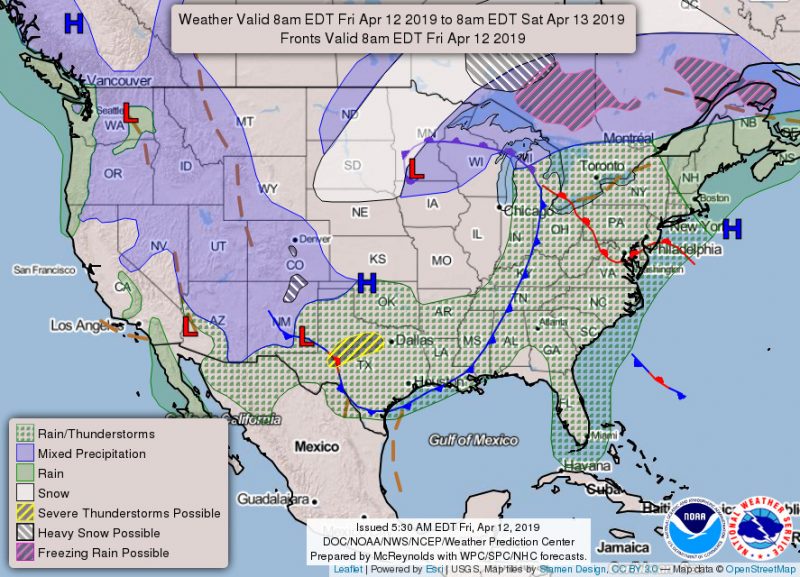 Tonight (Friday):
Showers will become more numerous possibly with some thunder and lightning. Some of the storms could produce heavy rain. Lows will only fall to around 60 as a warm front passes over us. Winds will be from the south at 8 to 13 mph, with gusts as high as 25 mph. New rainfall amounts between a half and three quarters of an inch are possible.
Tomorrow (Saturday):
Leftover showers should end by Saturday morning and scattered showers return in the afternoon. Skies will be cloudy, but this day looks to have the lowest chance of rain this weekend. Highs will still be warm in the mid 70s with winds from the west at 5-8 mph. In the evening there is a continued possibility of scattered showers with lows still only falling to around 60 again thanks to overcast skies, and south winds will be around 5 mph.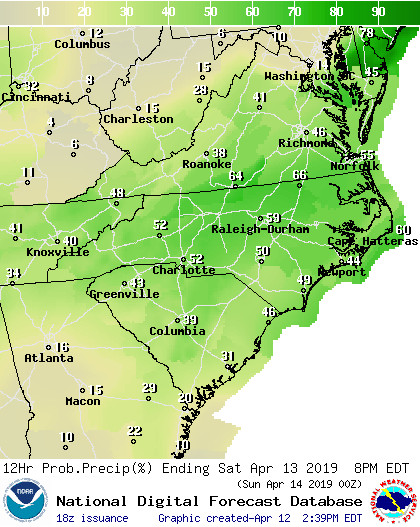 Sunday:
Sunday will start very similar to Saturday, except showers will be becoming more likely as the day goes on. Highs will be around the mid 70s. Winds will be from the south at 7-9 mph. Sunday evening will almost certainly be wet as a cold front approaches the area. Lows will still only fall to around 60 as the clouds keep the air insulated. Winds will shift to from the west as the cold front passes us.
Next Week:
Monday will be cooler, but the sky should clear up by mid morning with highs in the mid 60s and lows in the mid 40s. Tuesday and Wednesday look to be mostly sunny with another warm up on Wednesday. The next chance of rain is predicted on Thursday.
Featured Image from: getwallpapers.com/wallpaper/full/c/7/7/1180507-free-april-showers-wallpaper-2560×1600-full-hd.jpg