High pressure will remain over the region for the remainder of the day, making for another sunny spring day in College Park. Since temperatures will rise to around 70-degrees today, it's the perfect day to relax on the mall between classes or get some exercise outside. Clouds will gradually begin to move into the area ahead of a low-pressure system that will put a damper on everyone's Friday with cooler temperatures and rain showers.
Tonight:
Although the jacket isn't necessary during the day, you may want to grab a sweatshirt if you plan to be out after sunset because temperatures will fall into the mid-40s. Rain will arrive in the early morning tomorrow, so you won't need to worry about getting rained on if you're heading out tonight. However, it can't hurt to grab the umbrella on your way out.
Tomorrow (Friday):
Rain will continue throughout the day tomorrow while warm air rides over the stationary front positioned over the area. Because of the rain, the high temperature will only reach the upper-50s. Overall it will be a dreary day, so make sure you grab those rain boots, rain coat, and umbrella before heading to class tomorrow.
Tomorrow Night:
It will continue raining into the night, so it may be the kind of night to stay indoors and watch a movie with your friends. The low temperature will be mild, falling to about 50 degrees. Winds will be calm. The rain will cease late Friday night, but the clouds will stick around into Saturday. While this rain event will create a less than ideal Friday, the nice weather in store this weekend should make up for it.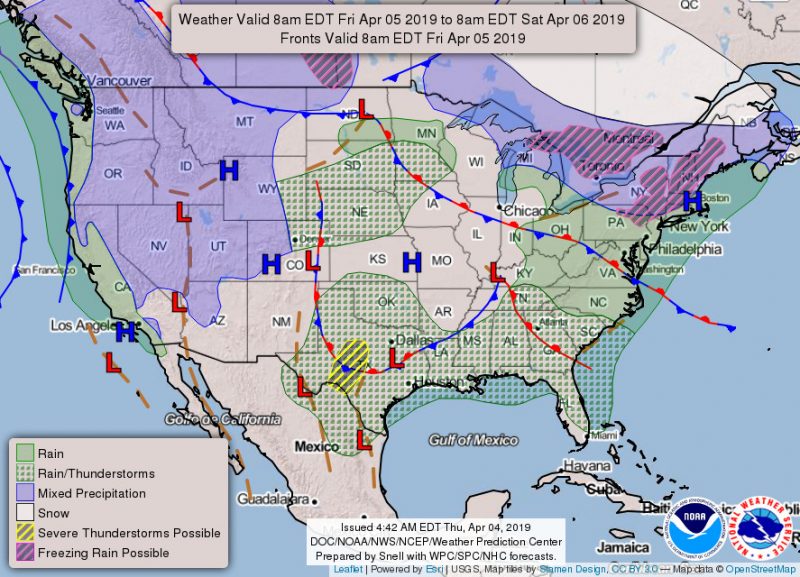 Featured image via Pixabay.com