With a high of 69 degrees and not a cloud in sight, College Park witnessed what could only be described as a perfect spring day. Although conditions will likely become rainy later into the week, today was nice and dry thanks to high pressure that has overtaken most of the region. Winds were definitely present too, averaging near 15 miles per hour and gusting up to 30 miles per hour at times. As A result of this dry and windy combination, a Red Flag Warning is in effect for most of the DMV until 8:00 PM. Be sure to keep this in mind if you are planning any outdoor activities involving fire; the low humidity and higher winds are prime conditions for brush fires. It's also a good idea in general to keep aware of any brush fires that could start naturally as well; even College Park is no stranger to them.
Tonight:
Going into tonight, we can expect the winds to die down some, although gusts up to around 20 miles per hour may continue. Skies will likely remain clear, but with the approach of a cold front (albeit a dry one), cloudiness may develop into the night. The more important question that many of you may be wondering is just how cold will things get going into the morning. After the noticeably cold lows of the previous several days that hovered around the low 30s, we should have a reprieve tonight and into the morning with a low of around 42 degrees. Looking ahead, it would seem that for the time being we can expect our lows to be no lower than 40, meaning you should safely be able to put away your jacket for any evening activities.
Tomorrow (Thursday):
Tomorrow looks to be another nice spring day with much more average winds around 7 miles per hour and a high around 64 degrees. The day will likely be mostly cloudy, and a chance of rain will slowly build into the evening where we may see some showers develop before rain overtakes the region Friday morning.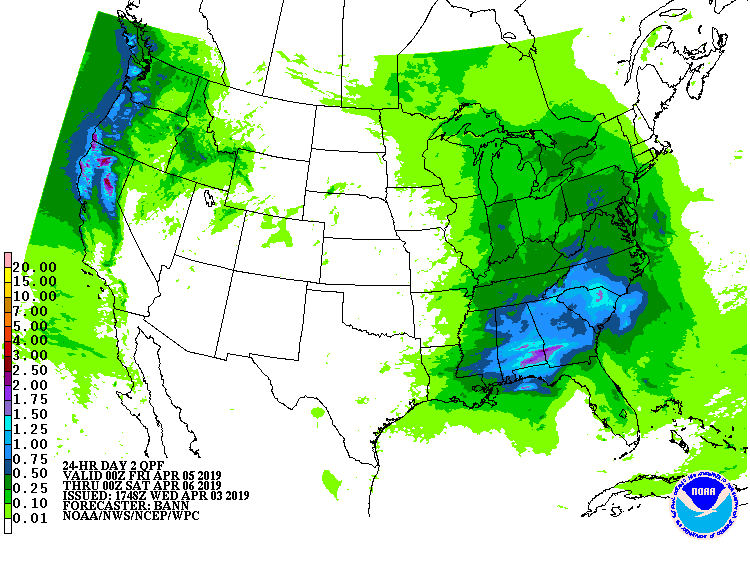 Featured Photo by Anthony DELANOIX on Unsplash