Happy Pi Day, Terps! Students are wrapping up their much-dreaded midterms before Spring Break and the weather isn't making it any easier to study. Today is our first opportunity to reach the 70s since the beginning of February which has many students eager to sprawl out on McKeldin Mall to get a much-needed study break. Winds could reach around 20 mph today but otherwise it will be a beautiful day to hang out outside! However, just like the students on campus, the warm weather won't be sticking around for spring break either.
Tonight:
Clouds will begin moving into the area, but precipitation is not likely. Winds will die down and temperatures will remain mild, with low temperatures falling to the upper-50s. If you're planning to head out tonight or make a trip to the library to study for your midterm tomorrow, you won't need to bundle up!
Tomorrow (Friday):
If you're too busy to chill outside today, no worries, because Friday will be gorgeous as well! You can ditch the jacket before heading to class because temperatures will reach around 70-degrees. Unfortunately, there is a chance for some precipitation in the afternoon and winds could potentially gust up to 20 mph. Despite the rain, 70-degree weather before Spring Break is a victory in College Park.
Tomorrow Night:
A cold front is expected to move through the area late Friday/early Saturday which will cause low temperatures to fall to around 40-degrees Friday night. There is also a chance of rain before midnight as clouds begin to move out of the area. It will begin to feel more like March in College Park on Friday night.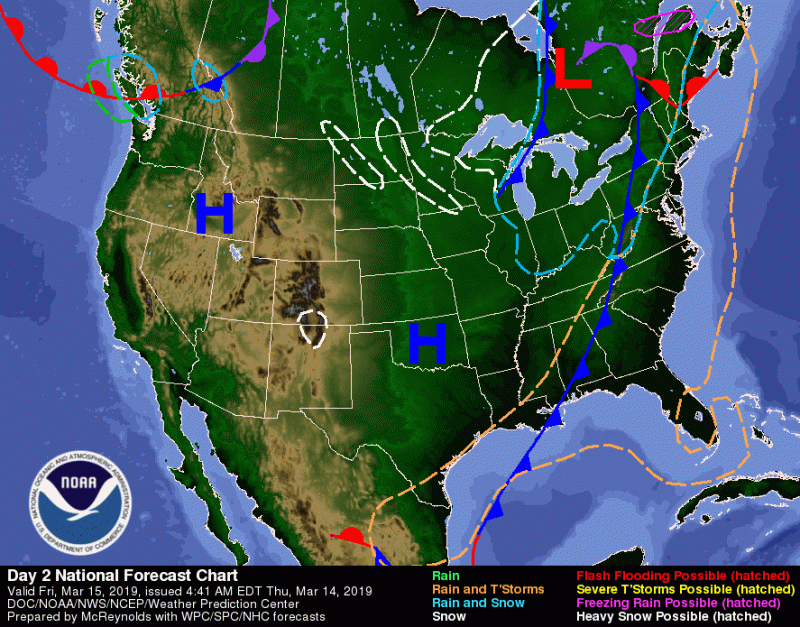 A Look Ahead:
The Terps who plan to stay at UMD over break can expect to see sunny skies next week. High temperatures are expected to be around 50-degrees and low temperatures are expected to be around freezing, so don't put those jackets away for good yet. Although temperatures will be mild here over break, we can only hope to see more 70-degree days when the students return!
Featured image via Pixabay.com