A general chill, that has nothing to do with impending finals, has subsided over College Park. Still, sunny and clear skies should keep your spirits high on this last Friday of classes, so bundle up and enjoy that brisk walk to your last lab or lecture.
Tonight:
Prepare for your parka to be tagging along to tonight's holiday parties. Low temperatures will reach into the mid-to-upper twenties as a cool and calm night ensues. Northwesterly winds will help temperatures stay extra frosty, although these will eventually die down to around 4-6 mph. Still, while we won't get any wind chill, a stagnant atmosphere will just help keep the chill intact.
Tomorrow (Saturday):
A bright and crisp Saturday will welcome you into the weekend tomorrow. High temperatures will struggle to make it past the low 40s, while high pressure does its best to once again trap that frigid air. Still, most of the day will be sunny with light winds only up to 7-8 mph, so yet another pleasant winter day is on tap. The lows will slink down into the high 20s again, but these temperatures aren't too far off track from what is expected climatologically in mid-December. After all, we're almost at the end of the semester Terps!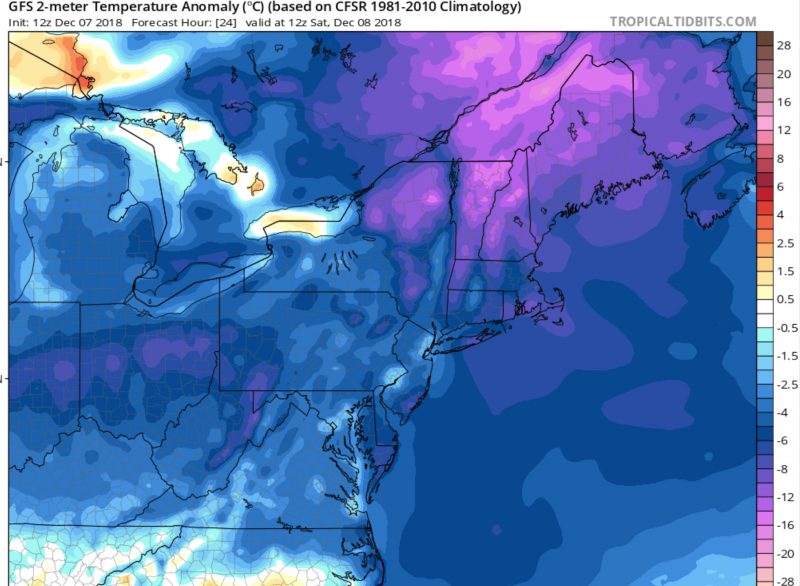 However, tomorrow morning's temperatures will only be a bit anomalously low for this time of year. (via GFS)
Featured image via Pixabay.com