Although today's game may have been raucous but disappointing, our weather was fairly calm today. With a high of 47 degrees, it would seem that this winter weather will not be leaving anytime soon. Winds were variable, ranging from 2 to 10 mph and a wind gust up to 20 mph at one point this afternoon, making for brisk conditions at time. However, clear skies helped keep the day from feeling too cool, so overall today was about as good as it gets for this time of year.
Tonight:
Expect temperatures to drop overnight, with a low of 34 expected tomorrow morning. Some clouds can be expected tonight and winds will be light. No precipitation is expected tonight so just make sure to bring a jacket along if you plan on heading out.
Tomorrow (Sunday):
As for tomorrow, the skies will likely be mostly cloudy during the day and at night. A high of around 50 is expected along with a low of around 40 for Monday morning. Winds will be light and no precipitation is expected for tomorrow.
The Week Ahead:
Our week ahead shouldn't prove to be too interesting, although it appears that Thanksgiving may be colder average. With a low pressure system expected to form in West Virginia Sunday night, we can expect cloudiness and possible overcast conditions before the warm front associated with the system sweeps the region and brings along with it rain. Currently the weather prediction center is forecasting for us to receive anywhere from 0.10 to 0.25 inches of rain Monday night into Tuesday morning, which would prove to be inconsequential.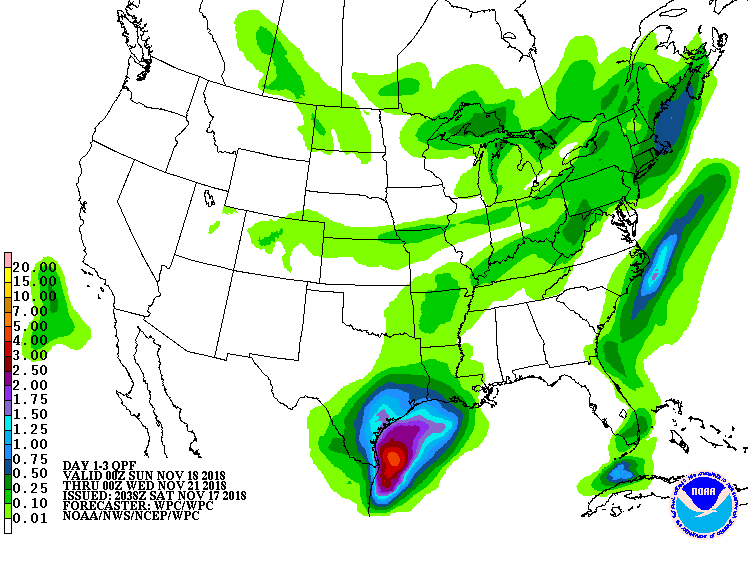 Current Quantitative Precipitation Forecast (or QPF) from the Weather Prediction Center.
Things begin to get far more interesting around Thanksgiving however, when polar air mass is anticipated to move into the Northeast and Mid-Atlantic region. The arrival of this air mass will see drastic changes in temperature with states such as New York and New England expected to drop as much as 15 degrees below average temperature. The Mid-Atlantic and Maryland in particular could see a drop in temperature up to about 8 degrees below average which would lead to below average temperatures the day after Thanksgiving. Of course, this forecast is 5 days out and will likely change some as move into the week but it is something to note. A high pressure system may proceed to build in the region which would preclude any chance of snow for now but will likely require a freeze watch.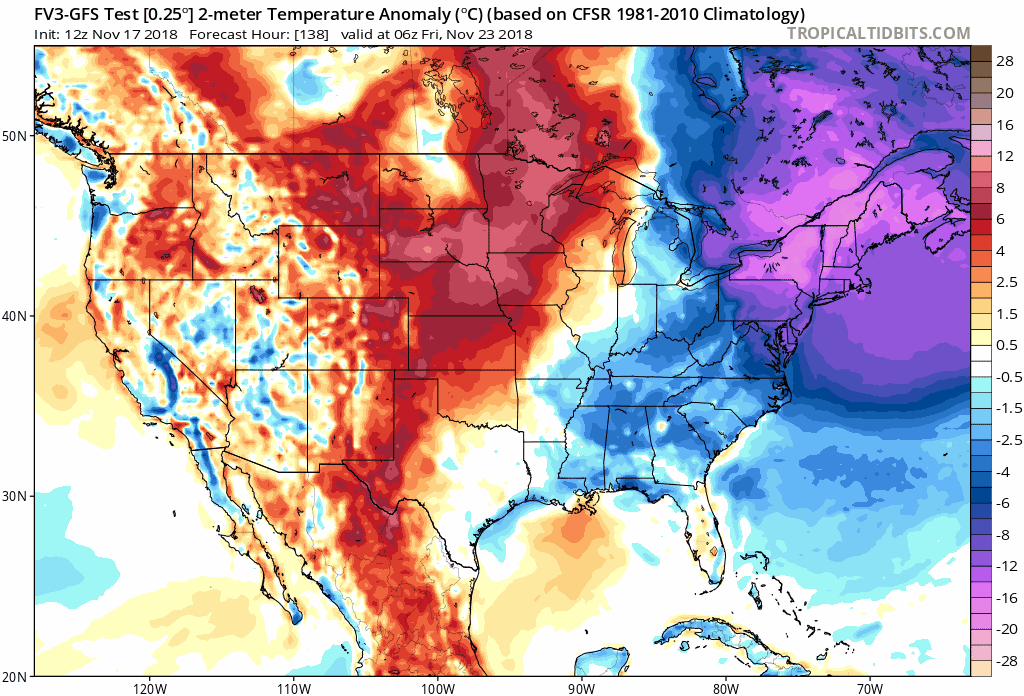 Latest run of GFS-FV3 model which shows the large temperature anomalies associated with the polar air mass. via Tropical Tidbits
Featured Image courtesy of The Diamondback