After seeing some beautiful fall weather for the first time this week, conditions will sadly return to the cold and rain we've grown so used to seeing. With a high of 72 and an anticipated low of 50 degrees for tomorrow morning, today could have been another wonderful fall day apart from the rain and cloudiness we are currently seeing. Winds were also average, ranging between 5 and 10 mph.
Tonight:
Conditions will continue to be rainy and overcast into the night. Expect temperatures to go down to a cool 56 degrees, although with the rain continuing you absolutely will need to bring a jacket along. Currently we are expecting about a tenth of an inch of rain tonight and another 1 to 2 inches of rain into tomorrow morning. Winds are expected to go no higher than 10 mph. The Weather Prediction Center is anticipating a slight chance for flash flood conditions however, giving most of the region a 10-25% of such flooding happening.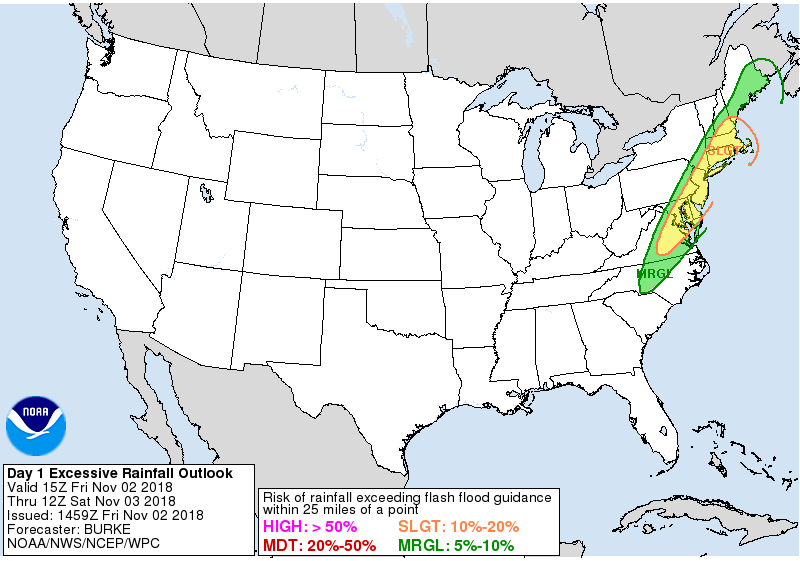 The latest projection from the Weather Prediction Center for the region's flash flood risk. Currently the Weather Prediction Center will issue flash flood warnings for most of DC and Northern Maryland if we receive above 3 inches of rain over 3 or 6 hours. Graphics via Weather Prediction Center.
Tomorrow (Saturday):
Tomorrow we can expect a high of around 57 degrees with today's cold front having completed its passage through the region overnight. Apart from a chance for rain early in the morning amounting to no more than about a tenth of an inch of rain, conditions should otherwise remain dry. Winds however will increase compared to today, ranging between 10 and 18 mph with gusts up to 24 also possible. The low for tomorrow will be a balmy 39 degrees as well, making it a good idea to bring a jacket with you should you venture out tomorrow night.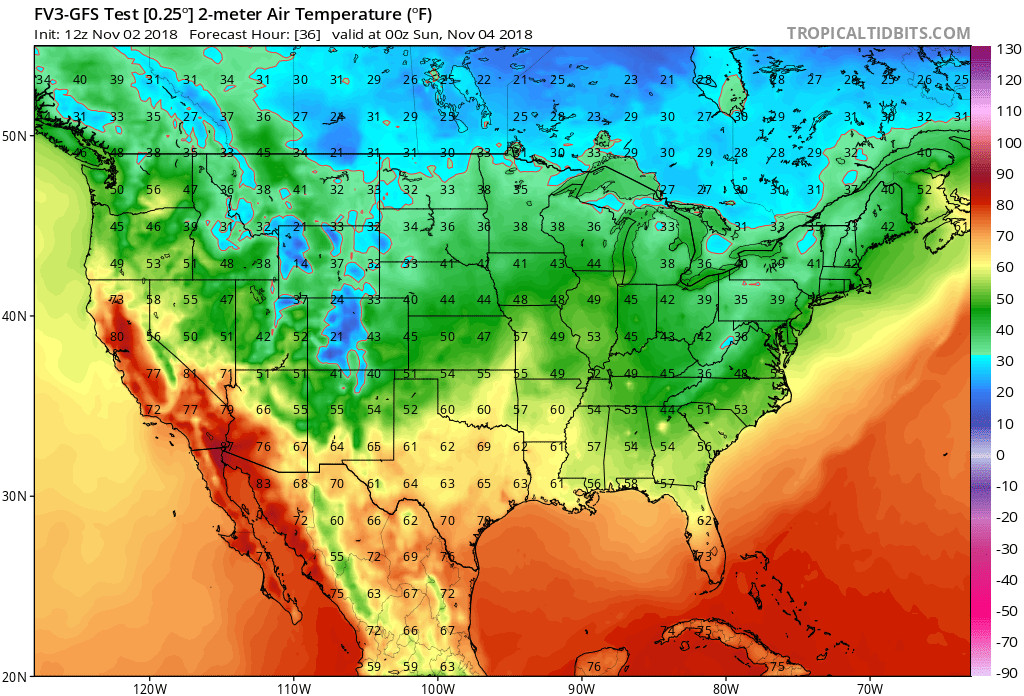 Expected surface temperatures Saturday night based on the latest run of the new FV3-GFS model. Its interesting to note temperatures may be cooler in the DMV area than some states in New England. Graphic via TropicalTidbits.
The Week Ahead:
The week ahead is looking to kick off with a strong possibility of severe weather both in the deep south and surprisingly, for the Mid-Atlantic as well, including the DMV. Currently, the Storm Prediction Center is anticipating a low pressure system to build in the Plains before making its way through the South and Mid-Atlantic. As it approaches the Northeast it is expected to deepen considerably, potentially lower than 980 mb, which would make it a powerful Nor'easter. Unfortunately based on forecast soundings this would not bring the snow many people are currently looking forward to, but would actually result in the possibility of tornadoes, winds, and hail for the South and Mid-Atlantic.
Because this forecast is more than 3 days out, there are still many variables that just can't be fully assessed such as the location, strength of the system, and number of severe events we see. Based on the latest GFS run, even with the forcing expected from this Nor'easter, any air that is lifted will not have the levels of buoyancy one would expect for a full scale severe weather outbreak. However, current forecast soundings indicate that wind shear will be sufficient in terms of direction for the development of strong and longer maintained updrafts. Storm Relative Helicity, a measure of the potential strength for updrafts in supercells, also corroborates this with some impressively high values for the region Tuesday evening.
I would expect that the storm mode will be predominantly multi-cellular in nature with the greatest threat likely being wind and hail, which could be large if any updrafts become strong. These updrafts could also allow for strong tornadoes, especially if supercells do develop. Again, given how much time there still is for atmospheric conditions to change, none of this is set in stone for the region, but it definitely will be worth paying attention to the forecast in the days to come.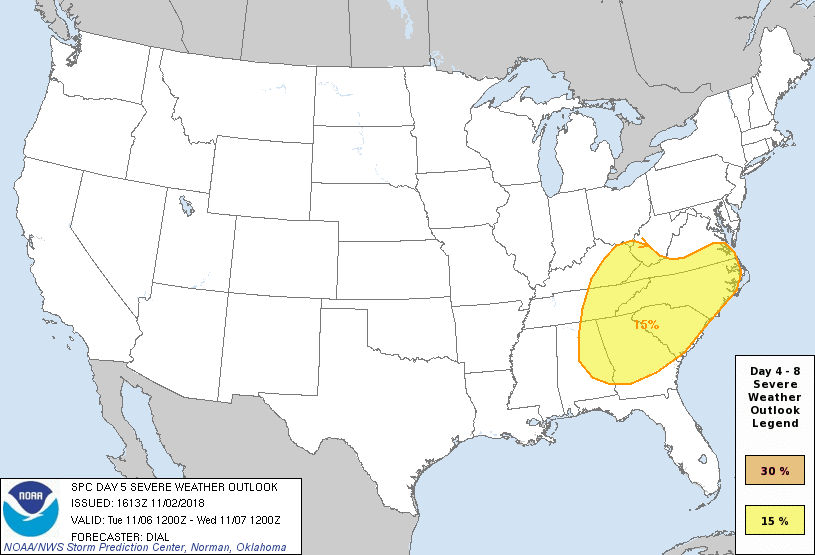 The Day 5 Severe Weather Outlook from the Storm Prediction Center. Typically, the SPC only forecast out to 3 days but if model convergence is sufficient they will also issue forecasts beyond 3 days. As can be seen, Maryland and Northern Virginia are currently excluded from this outlook but given the model trends after this outlook was developed it may well be expanded further up North. Graphic via the Storm Prediction Center.
Featured Image courtesy of the UK Met Office