Today was a dreary day, with mostly cloudy conditions persisting throughout the day and not expected to leave anytime soon. Light variable winds occurred during the day, with a high of 53 degrees and low of 40 degrees. With midterm season in full swing, it was a perfect day to stay in bed and study!
Tonight:
Chilly conditions and most cloudy coverage will continue throughout the evening. Temperatures will drop to high 40s around 8 p.m. with light northeast winds. The chance of precipitation is only 10% for this evening.
Tomorrow (Friday):
Rain is expected tomorrow, so don't forget your umbrella at home! The high for tomorrow is 52 degrees, but it will feel like the mid-40s throughout the day. Rain may begin in the morning, with 66% chance of rain occurring at 2 p.m. The rain will be accompanied by light east winds throughout the day.
Tomorrow Night:
Rain is expected to continue throughout the night and is expected to accumulate over 0.5 inches. Temperatures will stay around 50 degrees, and heavier winds will shift in at 10-20 mph from the northeast.
Look Ahead:
Saturday morning will be wet and dreary, but the rain is expected to clear out around late morning. Saturday looks cloudy, with a high of 54 degrees and a low of 47 degrees. Sunday is also cloudy, with a high of 59 degrees and low of 47 degrees. A great weekend to bundle up and be outside, or curl up at home with a good movie and tea!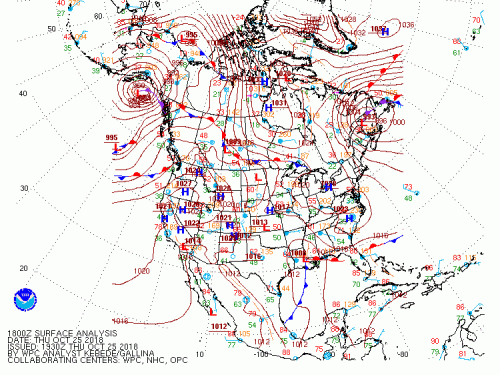 Caption: A look at today's surface analysis, curtesy of wpc.ncep.noaa.gov
Featured Image Source: Pixabay.com