Through Tonight:
Above average temperatures on this December day will abruptly come to an end soon as a cold front will be moving through our area overnight. A line of showers associated with this cold front will pass through our area this evening and linger overnight until the morning hours. Low temperatures will drop into the low 40s and upper 30s for our area. Light winds of 10 to 15 mph will shift from the SW to the NW, indicating the passage of the cold front.
Tomorrow:
Expect cooler high temperatures in the upper 40s to the low 50s on Wednesday. Clouds will clear up as the day passes bringing mostly cloudy skies. Light winds will be blowing from the Northwest before shifting to the Southwest.
Elsewhere:
On the west coast, devastating fires are currently burning in portions of Southern California. Hundreds of firefighters are currently battling this blaze in what is the latest in a series of fires that have plagued the state this year. As you can see by the map, the fires are very close to the Los Angeles Metropolitan Area.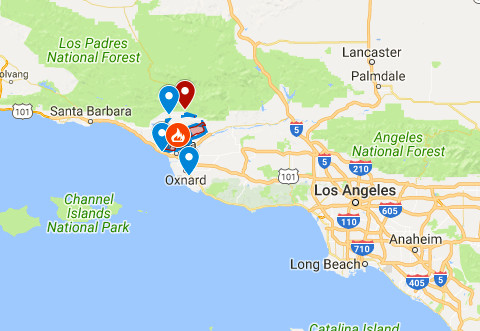 Credit: http://www.mercurynews.com/2017/12/05/ventura-fire-map-thomas-fire-mandatory-evacuations/