The sun surely made a comeback this afternoon after starting off on a cloudy note this morning. Highs made it to around 50 degrees in College Park which was a warm welcome after this past weekend's taste of winter.
Through Tonight
Heading out this evening? Grab the big coat and fluffy scarf as lows reach into the mid-to-upper 30s. The outer suburbs will feel Mother Nature's chilly wrath as lows dip down to the low 30s. Winds will stay calm tonight with speeds of 4-6 mph.
"Flakage" is possible through the Appalachians tonight with lows in the upper 20s in the higher elevations. A true sign of snowy weather creeping up on the DMV! However, no little to no accumulation expected.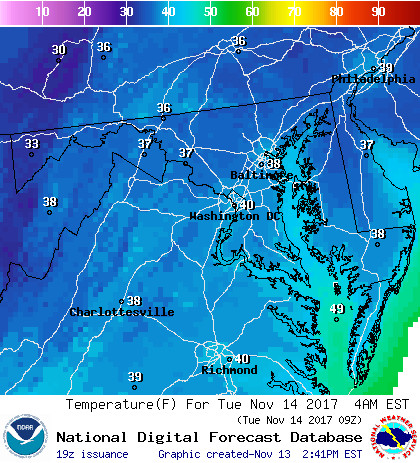 Tomorrow (Tuesday)
Tuesday will be similar to today, but with plenty more sunshine to brighten the sky. Highs will hover around 52 degrees, still chilly enough for a sweater. Winds will stay light from the north-northeast throughout the day. Chillier temperatures will move in through the night, reaching down to the low 30s.