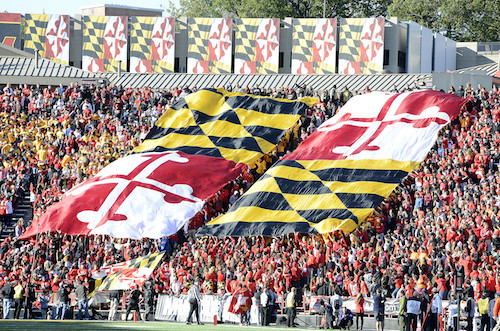 (Photo UMD Athletics)
Sunday will be a gloomy, wash out but, Saturday will be a weekend weather winner. High temperatures  Saturday will be reaching the 70s  but, a passing cold front moving across the east coast Saturday evening will have temperatures dropping to chilling digits on Sunday with high chances for precipitation. Be sure to get outside Saturday to tailgate and cheer on the Terps in the nicest game day conditions.
Through Tonight: If you like mostly clear skies, light winds and chill temperatures, then this evening is the perfect mix of conditions for you. Tonight will be quite nice weather. Temperatures will drop down to the chilly upper 40s with a south wind around 6 mph.
Saturday: Weekend weather winner! Perfect for a homecoming football win. Saturday will be the nicest day of the weekend so, you might as well enjoy it. Partly cloudy skies with high temperatures in the lower 70s and mild south wind around 5 to 10 mph. A chance of showers overnight with rain amounts up to a quarter of an inch. Low temperatures for the evening will fall to the mid to upper 50s.
Sunday: Wash out of the weekend.  High temperatures will be in the mid to upper 50s with a 90% chance of precipitation. Late afternoon into the evening will be quite unpleasant — gusty winds,  cool temperatures, and rain. Gloomy day and gloomy night. As a cold front passes our region and move eastward, temperatures will drop significantly. Lows will be in the lower 40s.