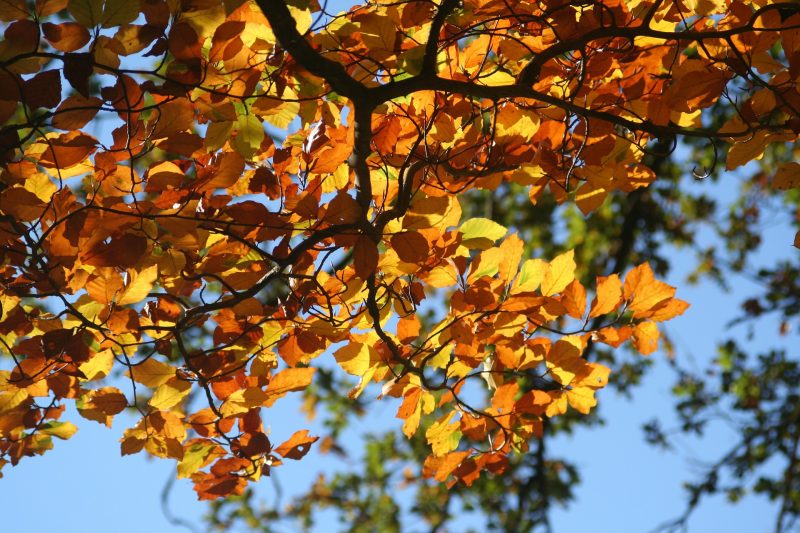 Enjoy the warm, sunny weekend because the start of next week is looking like a washout! Warm and humid conditions this weekend will feel like early September with temperatures in the 80s. A weak fronts sits just north of our region. A southerly flow will continue to bring more late summer weather. Moving ahead through the weekend, the high pressure system will remain over the Atlantic and continue to bring south/southwest flows into our area. Increased chance for showers will be Sunday and Sunday night. Tropical Storm Nate is brewing up a system northeast of Honduras.
Through Tonight
Mostly cloudy skies this evening with a south wind about  3 to 5 mph and temperatures in the low 60s. As the upper level jet moves towards the east, our region will see more breaks in the clouds. High pressure will strengthen over the Atlantic so, we will continue to see more mild conditions with patchy fog.
Tomorrow (Saturday)
Not as warm as Friday but, temperatures are still in the 80s. Expect mostly sunny skies wth a light south/southwest wind throughout the day. Enjoyable day to explore nature, engage in outdoor activities and soak up the sun before the rain. A chance of showers is expected after 2 am. Clouds will move into the area as the tropical moisture moves north. Low temperatures will be in the upper 60s with a south wind around 9 mph.
Sunday
Wet day of the weekend. Mostly cloudy skies with high temperatures in the upper 70s to lower 80s. More tropical moisture moving into the region and the strengthening low level jet ahead of the cold front moving south from the Great Lakes is the optimal combination to increase the chance of showers. Warm and humid conditions will continue but Sunday will be the coolest of the weekend. Low temperatures will be in the upper 60s.
Hurricane Update
Tropical Storm Nate is situated northeast of Honduras. But, Nate is traveling towards the warm waters of the Caribbean Sea. Within the next 48 hours, forecasters expect Nate to strengthen to a Category 1; which is when it is expected to hit the northern Gulf Coast. NHC predicts Nate could be near hurricane intensity when it approaches the Yucatan Peninsula. But, once the cyclone moves inland over the U.S., it should dissipate. Louisiana through the western Florida panhandle can expect the most direct threat of impacts.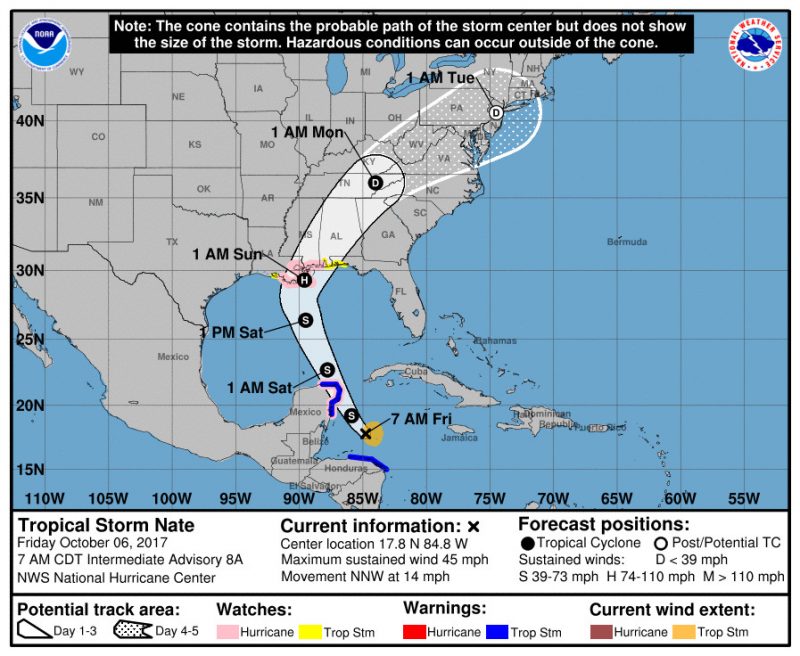 Featured image via Pixabay