After blanketing the region with fog early in the morning, Mother Nature only let the sunshine peak out a few times. For the last Monday of summer, the mercury reached into the upper 70s before a few sprinkles came and cooled things off.
Through Tonight:
The clouds will stick around helping the cooler temperatures linger through the night. Don't be surprised to feel another sprinkle of rain or two before the sun sets, so be sure to keep an umbrella nearby. The mercury is expected to drop into the mid-60s for tonight, while the outer suburbs across the DMV could even dip into the low 60s. Winds will be coming out of the north between 5 and 10 mph.
Tomorrow (Tuesday):
The clouds will stick around for another day. Even with a high near 80 degrees, you still may want to keep a jacket with you in case you get caught in some sprinkles. The winds will pick up speed as well, thanks to Hurricane Jose churning several miles off the Delmarva coastline. Gusts could be as high as 22 mph, so hold on to those hats!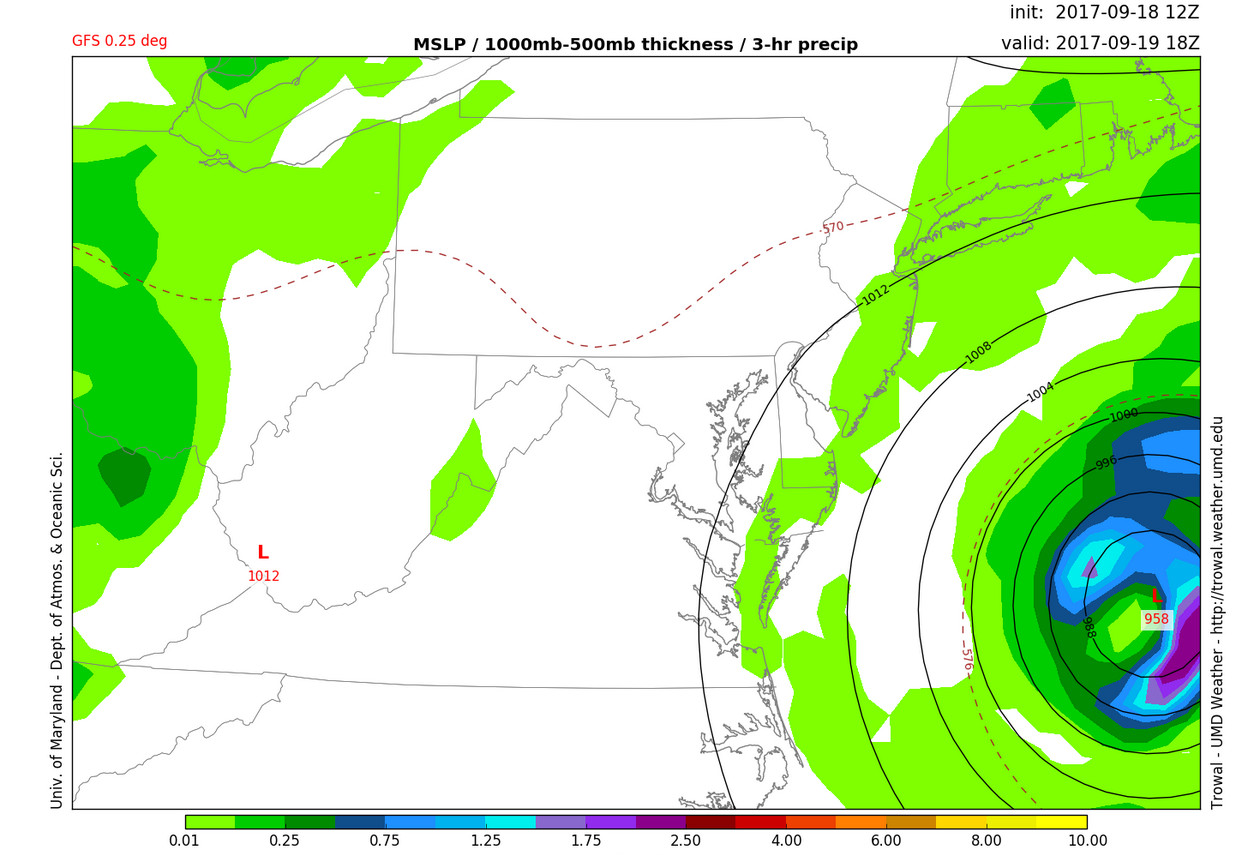 Tropical Update:
We've got two hurricanes spinning around in the Atlantic and they are about to impact land.
Hurricane Jose is currently sitting off the coast of the Carolinas. The storm is about 250 miles east-southeast of Cape Hatteras, N.C., and about 445 miles south of Nantucket, Mass. It's current sustained winds are at a maximum of 75 mph, making Jose a Category 1 hurricane on the Saffir-Simpson wind scale.
Jose is forecast to affect the Northeast where tropical storm watches and warnings drape the coastline from Delaware to Massachusetts.
Hurricane Maria is the one to keep a close eye on. This storm has become a powerful Category 4 major hurricane with maximum sustained winds at 130 mph. This hurricane quickly matured within the past 24 hours. On Sunday, Maria was considered a tropical storm before significantly strengthening over warmer waters.
Maria is currently located about 35 miles northeast of Martinique and 70 miles east-southeast of Dominica. This storm is currently battering the Lesser Antilles. Unfortunately, this strong hurricane will impact Puerto Rico and the Dominican Republic through Wednesday and Thursday where less than two weeks ago, Hurricane Irma passed by bringing damaging winds and rainfall.
The east coast, especially the Carolinas, will have to keep a close eye on Maria through the rest of this week as the storm is expected to strengthen even more.