The heat is back! After a very comfortable cool spell, it appears summer is back and just in time for Independence Day. Winds have been dominantly from the south and ushering in warm moist air. However, just like in typical summers when you have warm and moist air, thunderstorms may follow. A pop-up storm or shower can make or break your day this time of year. Catch the holiday weekend forecast below if you're having a pool party, going to the beach, or just want to know if the fireworks will be cancelled by rain.
Tomorrow (Saturday):
The greatest chance of storms will be Saturday afternoon. A Bermuda high to the east and an approaching frontal system from the west will set the stage for showers and thunderstorms. High temperatures will still reach the low 90s before the front approaches. Humidity will also be a factor and make it feel even warmer. The Storm Prediction Center has the immediate College Park area in a marginal risk for severe storms with chances of severe weather increasing towards the north.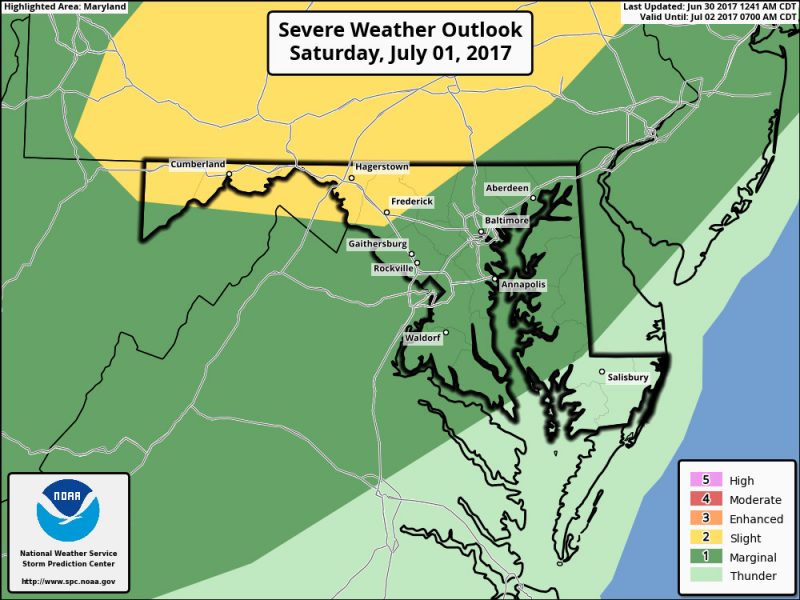 Sunday:
The biggest change for Sunday will be a noticeable drop in humidity. Skies will be sunny and temperatures will bounce back up to around 90, but drier air will make it not as miserable. Winds will be out of the west at 5-10 mph making it a great pool day.
Monday:
Sunny skies remain for most of Monday as many continue/prepare for the July 4th celebrations. The day will almost be an exact repeat of Sunday with temperatures reaching the low 90s. A weak cold front will move in from the north late Monday and into Monday night, but should only carry a few isolated showers with it. Overall, a pretty normal hot summer day in Maryland.
Tuesday (Independence Day):
One of the most closely watched forecasts of the year is July 4th. Will it be too hot to enjoy outdoor activities? Will the fireworks be a washout? This year is no different and current thinking is the heat will remain a factor. Temperatures will be back into the low 90s and humidity will be on the rise compared to previous days. Guidance does suggest there could be a few isolated showers/thunderstorms into the afternoon and evening. As of now this doesn't appear to be enough to affect many fireworks displays. However, keep in mind we are still over 3 days away and there is still some wiggle room in the forecast.
Follow on Twitter (@UMD_weather) and on Facebook (UMD Weather) for updates throughout the weekend!
Featured Image Via Pixabay.com