I hope everyone has been out enjoying these past few days! It has been absolutely beautiful with temperatures well above average in the DMV. Campus has been quite lively with students finding any reason to get outside whether it was to do homework, read a book, play sports, or even just lay out in the sun. Today was not quite as warm as the past few days, but still ended up reaching the mid 70s (which is nothing to complain about). The cold front that moved through today will allow for more seasonable temperatures over the next couple of days.
Through Tonight:
Another great night ahead! Skies will remain clear with light winds around 5-10 mph out of the northwest. Tonight's low will reach down into the mid 40s around DC, but will reach the lower 40s in northern Maryland.
Tomorrow (Thursday):
Tomorrow will be more seasonable compared to the past few days. Temperatures will climb to the upper 60s, while the average max temperature for College Park is about 66 degrees. Winds will be at about 5 mph out of the north, while skies will remain mostly clear with few clouds finding their way into our area. Still allowing for another beautiful Spring day in the DMV. Overnight, some clouds will move into the area with the low temperatures dipping into the upper 40s. Winds will be light and variable out of the east.
Pollen Alert: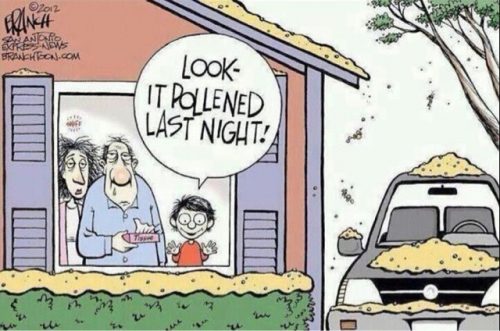 Although the weather has been exceptional, not everyone enjoys Spring for one simple word. Pollen. Cars have a fresh layer of it every morning while many people cannot escape from the itchy eyes and runny noses (including myself). Pollen can make the best Spring days miserable. With the lack of rain over the past few days, and minimal rain in the foreseeable future, the pollen count will continue to rise. The top allergens currently are maple, elm and juniper trees, with maple and juniper trees being the most severe allergen of the three (according to Pollen.com). If you take any type of medication for allergies regarding pollen, make sure to not forget for the next week!
Featured image courtesy of Pixabay.com